Only those of who have experienced living with an emotionally unavailable man can understand the pain of not being able to get close to the one you love.
It seems that no matter what you do, he finds a way to create the distance. Excuses, other activities, anger, criticism, anything that will keep you away from him emotionally.
It's hard to describe how rejected, unimportant, depressed and alone it can make you feel.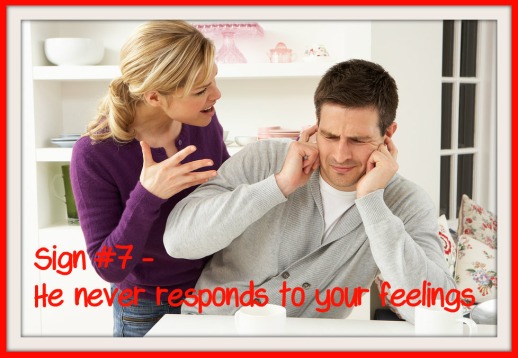 Is Your Husband is an Emotionally Unavailable Man?

Maybe you had a gut feeling about him even before you were married. There were some warning signs (for example, he wasn't too keen about commitment and the idea of marriage), but you brushed these signs off because you were in love.
Maybe you never saw it coming, because some men give the appearance of availability and speak openly about their feelings and their past.
This doesn't mean that you can't wake up one day married to a man who can't really connect emotionally and has completely shut you out (of his heart).

10 Signs of an Emotionally Unavailable Man

Here's a list of 10 red flags that may signal emotional unavailability, followed by an answer to this question: Can emotionally unavailable men CHANGE?
1. Looking for a Fight
He Rises disputes for silly reasons, and he is always angry about non important aspects of the relationship. This is an easy way to create distance and avoid the important issues in your relationship and your life together.
2. Too Busy for You
He is getting involved in so many projects that there is no energy for you. He prefers spending time with his male buddies or generally other people than with you.
He doesn't show up for you – Whether you have a work event, or a reason to celebrate, he doesn't show up to support you because he is emotionally closed up.
He tends to always talk about issues off the relationship, never wants to "talk about us".
3. Overly Judgmental
He is always judgmental or too critical of your behavior, to produce humiliation and scorn.
4. Not Interested in Sex
When a man is not interested in sex, it's a huge warning sign (unless he has physical or medical problems). Unfortunately this may indicate that he is cheating or planning on cheating.
5. Using Drugs or Alcohol
Using drugs, alcohol or other addictions as barriers to intimacy
6. Always Angry
He is always angry. He is always looking for imperfections in you. He may be rude to others too. He is never calm and satisfied.
7. Never responds to Your Feelings
He is passive aggressive. He never responds to your anger or sadness. When trying to talk to him he is either extremely defensive or just shuts down and tunes out.
He seems to not appreciate you and doesn't notice acts of kindness or nice gestures. You feel like a ghost in your own home. Unnoticed and unappreciated.
8. Controlling
He is inflexible, he won't be inconvenienced to modify his routine, and he loathes compromises. The relationship seems to revolve around him.
9. You Can't Make Plans with Him
Trying to make a plan with him is like trying to catch a fish with your bare hands. Slippery and frustrating. He always busy, tired, stresses, depressed, or broke.
10. He Doesn't Answer When You Call Him
He doesn't pick up the phone at work or answer him mobile phone when you call him. He only answers your texts and doesn't want to share what he is doing or where he is. These are big red flags.
Can an Emotionally Unavailable Man CHANGE?
If your husband was always like this, even before you were married, it's going to be hard to help him change (but still – possible).
Some men are emotionally unavailable because of their childhood, their relationship with their mother or even past traumatic relationships.
If your husband has become emotionally distant over time (due to problems and crisis in your marriage), the answer is definitely YES. He CAN change.
How to Unlock Your Husband's Heart
Unfortunately, in many cases these signs (especially if you find more than 3 signs) may indicate that he is seeing someone else.
If you suspect that he having an affair – See this article about what to do now.
It may seem far-fetched at this point, but you hold the key to the solution. Your personality, your actions and your words can quite easily (yes, easily!) transform him back to the loving and caring husband he used to be.
Believe or not, you have the power to break through his emotional defenses so he wakes up to see the wonderful woman he has by his side.
Randy Bennett, a well-known couples therapist, shares the 3 fastest ways to melt your man's heart and make him finally open up to you, share his feelings, listen to you without judging, make you his first priority and go out of his way to make you feel like the only woman on earth.
If you've never heard of "The Tuning Fork" method, this is your chance. It can help you transform him from not interested to adoring in less than a week.
Are you planning to do something today? Right now? Or stay miserable, frustrated and alone? It's up to you.
Rooting for ya,
Lisa
P.S
Will you share this post? (Thank you!)
PAID ENDORSEMENT DISCLOSURE: In order for me to support my blogging activities, I may receive monetary compensation or other types of remuneration for my endorsement, recommendation, testimonial and/or link to any products or services from this blog.